The wonderfully fantastic Happy Seamstress has asked me to occasionally write stuff here, be it about knitting, crochet, or whatever else strikes my fancy, and I am more than happy to oblige! Anyway, before I do any of that, I should probably let you all know who I am…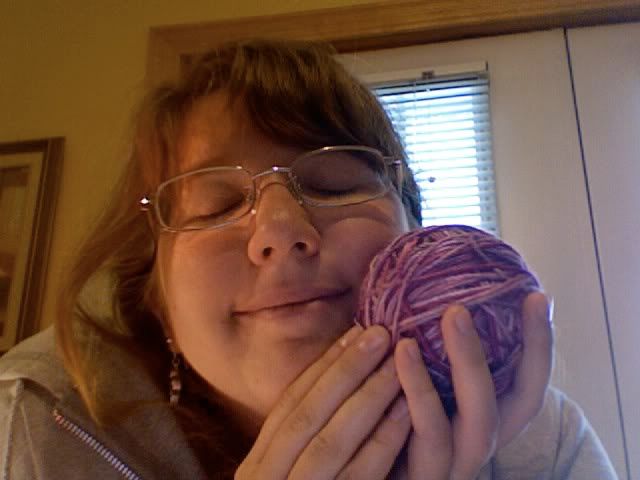 My name is Ilana, and I'm currently doing a PhD in Astrophysics at the University of Toronto.  I did my undergraduate degree in Physics at Bishop's University in the small town of Lennoxville, Quebec, which was also where I grew up.  I've always been fairly crafty, taking art throughout high school, always doodling in my books, experimenting with beading and jewellery-making, but I only started yarn-crafting  about three years ago.
I was playing violin in a band and we played this show in an old hotel with a serious lack of heating in the middle of winter. My hands were badly seizing up because of the cold, and so a hippy girl was nice enough to lend me her crocheted fingerless gloves, which she may or may not have made herself (my guess is not). They were perfect! I could still play because my fingers were free, but they warmed up my hands enough that I wasn't cramping… I seriously wanted some of my own.
I had a feeling that I wouldn't have found anything that worked well enough for me in a store, so I asked my mom to teach me how to crochet. Though she really prefers knitting, she agreed and we found a free pattern on the internet for fingerless gloves. I worked through them, cursing more than once the fact that I had chosen to do my first project in black yarn, and eventually got a product that I was more or less happy with. The gloves were mismatched because I had run out of yarn, and I decided to embroider a skull on one of them because I am super bad-ass and cool.
Anyway, I had been bitten by the yarn-crafting bug. I mean, I could make things… out of string… with a hook… that I could wear! I bought a few books, completed a few things (including a sweater that really didn't fit me), and discovered the yarn section at Zellers, but it wasn't really until I moved to the big city that I became a true yarnaholic.
In September 2008, I moved to Toronto to start my PhD. And the yarn scene in Toronto? Well, let's say it's a wee bit more vibrant than in my little home town. I discovered the local yarn stores and a stitch 'n bitch and soooo much pretty yarn… And then I decided to teach myself how to knit, because really, why not?
I picked up a copy of Debbie Stoller's Stitch 'n Bitch: The Knitter's Handbook, and worked my way through the entire introduction, learning how to cast on, knit, purl, bind off, increase and decrease. I quickly learned that I prefer the continental style of knitting (with the yarn in the left hand, a.k.a picking), probably because of my crochet background. Since then I've been knitting non-stop, often with several projects on the hook or needles.
So, that's me. On this here blog, I plan to write about knitting, crochet, and whatever else craft-related that might strike my fancy. This will likely include some free patterns and tutorials. If you want to hear me ramble more about knitting, crochet, astronomy and life in general, you can check out my blog, Off the Hook Astronomy.
Happy crafting!