I mentioned in my introductory post that I learned to knit from Debbie Stoller's Stitch 'N Bitch: The Knitter's Handbook. I'm a huge fan of the whole Stitch 'N Bitch series, and I own every single one of Stoller's tomes.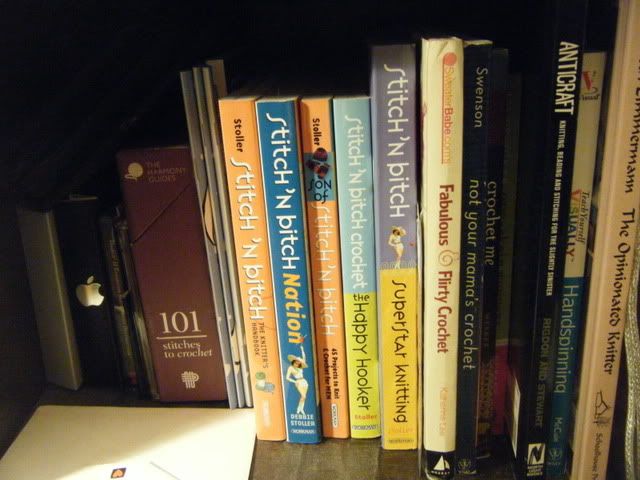 I think that her latest book in the series, Superstar Knitting, is now my favourite (and, as you can see above, is quite thick, even compared to her usual fare). It's really like two books in one: the first part is all techniques and tips, while the second part is chock-full of interesting and attractive patterns. True to the theme of the book, the patterns in Superstar Knitting are much more complex (and therefore better, in my mind) than in her previous books.
The first part of the book talks about different advanced knitting techniques, with everything from colourwork to lace, to cables, to knitting with beads. She goes into a lot of detail, really explaining how the techniques work as well as explaining how to accomplish them. She also usually gives many methods of completing a certain technique, even when she'll readily admit that one method is not her favourite, so that someone new to the technique can pick the method that works the best for them.
Sections I particularly enjoyed were her lucid explanation of how lace works, her numerous methods for steeking (a technique that still terrifies me a little), and the different embroidery stitches used to embellish your finished project. I must admit, however, that the chapter I'll likely refer to most often is the one entitled "Stitch Witchery", where Stoller explains pretty much every increase, decrease, cast-on, bind-off and grafting technique. I can't think of any technique that I've always wanted to learn that isn't at least mentioned in this book.
There is also a 50-page section on how to create your own pattern. Stoller guides you through the steps of figuring out the shape of a garment and translating this to stitch counts, and focuses primarily on designing the four basic types of sweater: drop shoulder, raglan, circular yoke and set-in sleeves. It was nice to see how each of these sweater types works, but it would also have been nice to learn how to design garments that aren't sweaters.
Finally, the patterns! At 41 original designs, this book is probably worth the patterns alone (especially at $17.95 U.S.). They're divided into sections according to technique (simple colourwork and textured knitting, intarsia and stranded colourwork, cables and bobbles, lace, and beads and embroidery), and there were certainly patterns in each section that have been added to my to-make list.
This sweater is called "Button It!" by Rain O'Brien. It's the perfect solution for when you have half a dozen intarsia designs that you want to put on a sweater, but don't have time to knit that many sweaters. Charts for four different animal designs are provided, but of course, you can always add your own designs to the mix. In addition, when the kid outgrows his or her sweater, you can just knit it in a larger size and keep the same patches.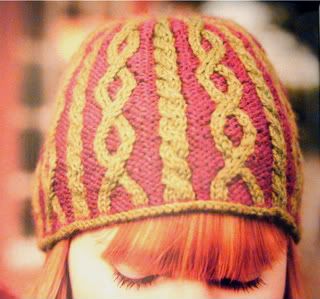 What attracted me to this pattern was how the colour combination really made the cables pop. I just love the idea of combining colourwork and cables, and this hat pattern, appropriately named "Colorful Cable Hat" by Sally Wilcox is the perfect small project to start with.
This sweater is the height of elegance. The pattern is called "Lattice" and was designed by Melissa Wehrle. The ribbed waist is very flattering, and the cabled top pulls the eye upward. And of course, that little keyhole in the sleeve is absolutely adorable.
It may just be that the model is so adorable, but when I first saw these gloves, I thought they were completely irresistible! The pattern is called "Beatrice Gloves" and was designed by Catherine Shields. It's actually a fairly straightforward glove pattern except on the back of the hand where a combination of lace and beadwork make this neat chevron pattern. I'm also in love with the colour of that yarn, Rowan Scottish Tweed 4-ply in Thistle.
I must say that I'm thoroughly enjoying this book! The patterns are fantastic, and the instructional section is full of handy techniques. Stoller is still touring with this book since late October, and has one last stop in Philadelphia, PA on February 24th. She'll be at the Philadelphia Free Library at 7:30pm for a talk/signing, so if you're in the area, you should check it out! Also, to see pictures of all the designs in this book, check out the Knit Happens website (scroll to the very bottom of the page).